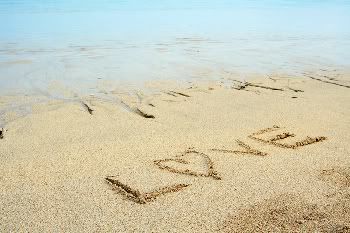 I watch the sea and sand cavorting
their saline kisses softly foaming,
and sparkled bubbles gently roaming,
that left my thoughts of love; distorting
the waves of golden flared reflections,
that sank below the lines I'm sketching,
while finger trailed the sand in etching,
the mirrored shadows of love's projections.
When summer fades to red and yellow,
and chilling nights replace the breezes,
a paling sun torments and teases
my heart remains so strangely mellow.
My passion lost to tidal changes
as grains of love she rearranges.